Questionmark Information
What is Questionmark?
Questionmark is a robust test-creation/delivery software that allows faculty to create course assessments and view comprehensive reporting and analytics. Questionmark is supported by OTES and is available for free to all LSU faculty.
For more information about Questionmark's features and capabilities, please click on the Questionmark Fact Sheet image below.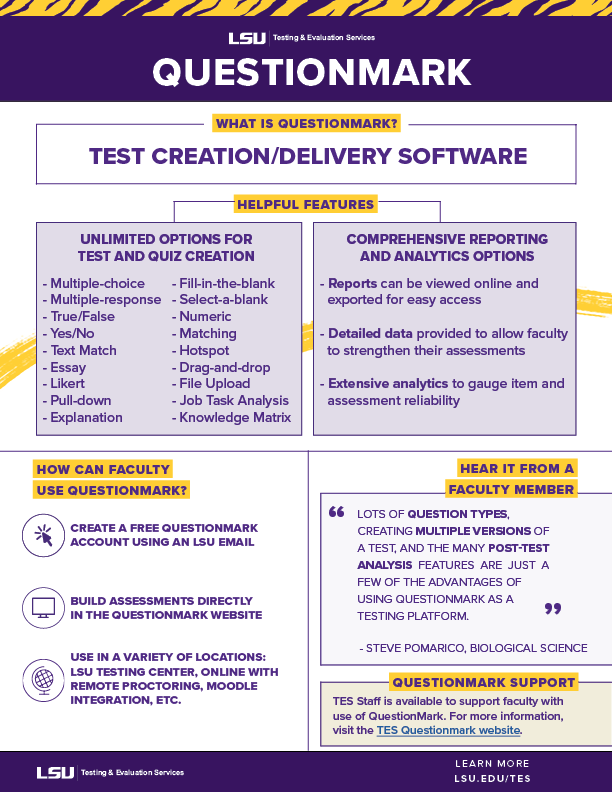 Process for Faculty to Use Questionmark
---
Questionmark Training Videos
Below are a series of videos to help faculty use Questionmark.
Get Started with Questionmark
Create a Faculty Account
This video shows faculty how to create a Questionmark account and the main features of the Questionmark homepage.
Visit the LSU Questionmark website and Sign In for the first time.
---
Using Questionmark to Create Assessments
Creating Topics
This video explains the concept of Topics and how to create Topics to organize assessment questions.
Creating Questions
This video reviews the general process for creating questions.
Developing Assessments
This video shows faculty how to configure, organize and prepare the assessment for publishing.
Creating Specific Questions
The below videos provide greater details on how to create specific types of questions faculty may include in their course assessment.
---
Reporting
The video below details Questionmark's robust reporting and analytics features.
Support to Faculty
Questionmark Support
OTES Support
Email: otes-testing@lsu.edu
Please contact OTES for information on using Questionmark with remote proctoring services, such as ProctorU.